Veterinary medicine is always changing, as it is in human medicine. As more options become available, distinguishing the differences and efficacy between types of treatment can be confusing. We hope the information we provide on our blog will provide a better understanding of the philosophies, techniques, and treatments associated with some of these less "conventional," but increasingly more common areas of veterinary medicine
What will the application of laser therapy do for my pet?
Laser therapy provides a sterile, pain-free, surgery-free, drug-free treatment which is used to treat a variety of injuries, wounds, fractures, neurological conditions, numerous dermatological problems, and pain (post-surgical, neck & back).
Whether your pet is rehabilitating from trauma or injury, healing from wounds, or simply aging, your companion can benefit from this holistic approach to treating pain.
How it Works
Like veterinary acupuncture (another holistic veterinary treatment we practice at Ann Arbor Animal Hospital), Laser therapy stimulates the body to heal from within. Non-thermal photons of light are administered to the body and absorbed by the injured cells. The cells are then stimulated and respond with a higher rate of metabolism. This results in increased circulation from the body, an anti-inflammatory reaction, relief from pain and an acceleration of the healing process.
Benefits include:
•    Drug-free
•    Surgery-free
•    Immediate results
Applications for laser therapy include:
•    Treatment of arthritis, degenerative joint disease, or hip dysplasia
•    General pain management
•    Post-surgery pain
•    Skin problems
•    Neurological conditions
•    Fractures and wounds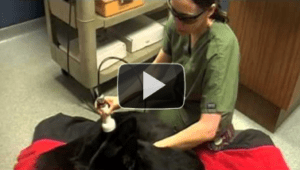 What to expect during a Class IV Penetrating Laser Therapy treatment session for your companion?
Simply put, it provides relief. As the laser is administered, your pet will relax and enjoy, much like you, experiencing a good massage. The almost immediate relief of pain will allow your pet to be comfortable and any anxiety that your pet initially experienced will dissipate. Angry feline companions will start to purr and most of our canine companions will actually fall asleep during their therapy session. Frequently, after therapy, the quote is heard: "Our young animal is back" or "she acts like a puppy again." Pain relief is provided in just a few minutes of therapy and that alone improves the quality of life for your best friend.
Most of our laser therapy patients are older dogs with musculoskeletal ailments. Some signs that your dog is experiencing pain that laser treatment may be able to assuage:
•    Abnormal sitting or lying posture
•    Restlessness
•    Whining, groaning or other vocalizing
•    Limping, unable to get up or lie down
•    Difficulty getting into car or down stairs
•    Lack of grooming
•    Won't wag tail
•    Licking or biting area
•    Lack of appetite
•    Trembling
"We were skeptics. This was the last ditch effort to help our 14 year old, 50 pound canine friend recover from a painful, debilitating arthritic knee injury. To our amazement and joy, Laser Therapy helped her recover to a manageable condition. Since she had no other health issues, we decided to add electroacupuncture to aid her in managing her arthritis. Together, these two treatments given on a regular basis, have helped her maintain a level of mobility and provide her with a good quality of life to allow her to continue with her journey toward her 15th year. We no longer doubt the benefits that Laser Therapy and acupuncture can provide, we have seen it first hand."

—Vic & Nancy G.

Ann Arbor Animal Hospital has two holistic clinicians on staff, Dr. Taryn Clark and Dr. Jessica Franklin. They both completed post-graduate training with the Chi Institute