Rocket is a rescued Standard Poodle. He ate something he should not have, and his previous owner could not pay for the estimated $2500 lab plus removal of the foreign object in an emergency surgery which Rocket needed to survive.
He was given up to some Good Samaritans, who are affiliated with the Partnership 4 Giving charity in Shelby Township, who rushed him to the Ann Arbor Animal Hospital where his condition was pronounced critical. His organs had not shut down– yet– so his rescuers decided on the emergency surgery that saved his life.
Rocket has since gone to a happy new home to live with a fun Jack Russell who will share his ¼ acre wooded backyard. Rocket looks forward to agility classes, fun trips to the dog park, long walks along the Huron River, trips up north, and going sailing (always with a life preserver, of course!). He and his rescuers are asking for your contributions to help pay for the emergency surgery that saved his life and made a fun future possible.
Donations to pay for Rocket's surgery are tax deductible. Please make your contribution to "Partnership 4 Giving" (a 501(c)(3) organization) and reference the payment for Rocket.
Jim Simpson is the director of Partnership 4 Giving and his mailing address is: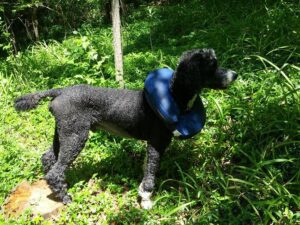 Jim Simpson
J Simpson and Associates, LLC
P.O. Box 182108
Shelby Township, MI 48318
A note from Jim about the charity:
Partnership 4 Giving is a 501(c)(3) charity that was formed 4 years ago by a small group of people in Macomb county. Our goal is to collect donations where possible and donate the funds back to needy individuals, families and organizations that have one-time needs. We have donated to families fighting cancer, to Selfridge Air National Guard Families and the Special Olympics Michigan for examples.
We are a small group and do not deal in large amounts of money, so we try to find truly deserving people or organizations that need a helping hand in a crisis or an unusual situation. Our funds are generated through golf outings, bowling tournaments and straight donations.
Rocket and his rescuers appreciate your support!