This post stars Dr. Franklin's 10-year-old dog Maddie, an approximately 1/2 acre backyard, and snowshoes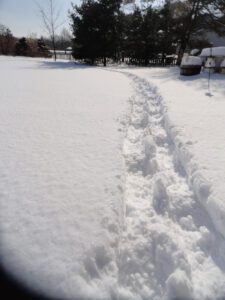 ——
Last winter's deep snow made walking hard for me. It also made my normally active 45 lb. Belgian Tervuren, Maddie, stick close to the house and not explore the fenced-in yard. If a dog has neck or back issues, jumping over and plowing through deep snow can re-inj
ure that painful area. If a dog has trouble in its back end, it may have difficulty moving through drifts or deep areas. Consider making paths in your yard to help your dog get around. A very small dog might need paths in 2-3 inches of snow; 6-12 inches of accumulated snow will be hard for most dogs.
On sidewalks, decks or other hard surfaces, shoveling is best. There will be less ice and a smoother surface if the snow is removed. If a dog starts to eliminate on a deck in the winter, take time to shovel off a good path to a flat, cleared area. Then go out with the dog, praise for urinating in the correct location, and make sure urine or poop in the wrong area is washed away or picked up.
For a large area, like my yard, snow shoes are quick and make a great packed-down path. It took about 30 minutes to make the paths in these photos.