We recently received a call from a friend of the hospital, Dr. Cathy Theisen of Veterinary Housecalls of Ann Arbor. Dr. Theisen is also the medical veterinary director at Baker College of Jackson and she and her students received a call on Tuesday– St. Patrick's Day– about a badly neglected pup they named Patrick.
Patrick was left by his owners locked in a room with five of his siblings. When Jackson County Animal Control gained entry to the room, they found a family of dogs so starved they were consuming the carcasses of the dogs which had already died.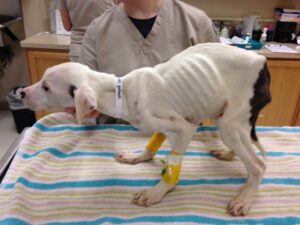 Patrick's condition was worse than the others; in desperation, he had eaten a dish rag that then became lodged in his GI tract. Patrick was operated on by Dr. Theisen and her veterinary tech students, the dish rag was removed, and we at the Ann Arbor Animal Hospital agreed to take Patrick post-op to monitor and provide care for him. Due to his condition, there was concern that he wouldn't make it through the first night so it was imperative that he had constant surveillance which we, as a 24-hour facility, were able to supply.
It is important to us to help raise awareness among readers of what happens when people don't know what to do with pets they can't care for. We realize the pictures of Patrick are graphic and these will hopefully spur some to action, but what we really want to highlight and stress is that without a group of dedicated animal lovers coming together to aid Patrick he didn't have a chance. We are privileged to be a part of this community and to assist in cases such as this.
Patrick is a very sweet, beautiful white pitbull who is recovering well. He and his five siblings need adopting! Please call Jackson County Animal Shelter at (517) 788-4464 if you are interested. If you would like to donate money to help pay for the care Patrick received and still needs, please use the PayPal link below, and include a note that the funds are for Patrick and his siblings.
How big is the problem of animal abuse, cruelty and neglect? We can take a look at just two humane societies in Southeast Michigan. According to the Humane Society of Huron Valley, they investigate more than 500 cases each year. The Michigan Humane Society in Detroit says they investigate "more than 10,000 animal cruelty complaints each year in Detroit, Hamtramck and Highland Park."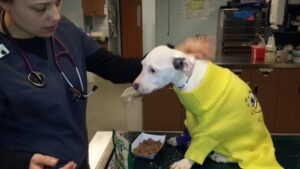 We would like to remind people that there is a lot of help available for stray and unwanted animals. See our Resources for Stray Animals page for information on what to do if you find a stray. If you have or know someone who has an animal that can no longer be cared for, we also have a list of Rescue Organizations in Michigan.