An ounce of prevention is worth a pound of cure.
—Benjamin Franklin
It's hard for us to believe that a whole year has passed since we launched our Preventive Health Plans. Our commitment to providing high quality veterinary care to our clients and patients at a lower cost continues to motivate and inspire us, and our Preventive Health Plans give you the option to save money while keeping up with your pet's routine care.
Our doctors developed each plan by bundling routine veterinary services for dogs and cats, saving you between 5% – 15% depending on which PHP and payment option you select. You have the option of pre-paying for the whole year, which increases your savings, or paying on a monthly basis. Our PHPs cover one year and are tailored by life stage. Each PHP includes: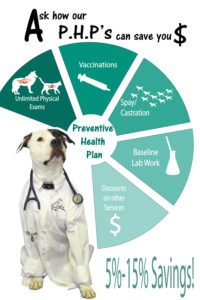 FREE, UNLIMITED EXAMINATIONS during daytime hours for an entire year.

Recommended vaccines.

Parasite tests.

Diagnostic blood and urine tests.

Neuters and spays are included in the puppy/kitten plans and dentistry services are options in the adult and senior plans.
If your pet encounters an unfortunate emergency, our PHP's 5% Preferred Pet Discount feature applies to our ER services. (Which, with the exception of our ER exam, are identical to our daytime service fees; we don't charge a premium like other ERs.)
As you may know, cats and dogs age at a much faster rate than we do. For every year that a human ages, our dogs and cats normally age an equivalent of 6 to 8 years. We have divided a pet's life into three stages. We consider Stage 1 to be the Puppy or Kitten Stage, Stage 2 to be the Adult Stage and Stage 3 to be the Senior Stage.
We will be following this post with a series of weekly entries on these three stages of pet life. Please check back every Monday for these and other articles and remember to ask your vet about a Preventive Health Plan for your pet!