Months have gone by since we first heard of the canine influenza outbreak in Chicago. At Ann Arbor Animal Hospital we want to continue to provide you with current information about what veterinarians and scientists are continuing to discover about the virus. We first published an article on the outbreak to encourage clients to become aware of the symptoms of this illness and to seek treatment if a pet was symptomatic. Below is an update sent out by Merck to A2AH which gives further information about the illness. Make sure to read to the end of the update for the signs and symptoms to look out for.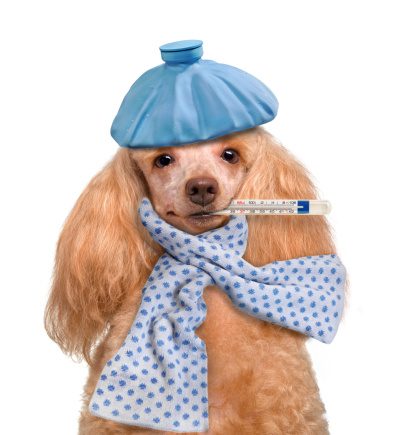 Canine Influenza – What You Need to Know
CIV Outbreak
A little more than two months ago, veterinarians in the Chicago area noticed a sharp increase in the number of dogs coming into their clinics with respiratory illness. The disease was first thought to be Canine Influenza Virus, H3N8, which is a respiratory pathogen of dogs that was first isolated in Florida in 2004. Subsequent testing, however, carried out with the assistance of the New York State Animal Diagnostic Laboratory at Cornell and the Wisconsin Veterinary Diagnostic Laboratory, identified the outbreak as being caused by a virus closely related to Asian strains of Influenza A H3N2 viruses, currently in wide circulation in Chinese and South Korean dog populations since at least  2006.
On April 9, scientists at the National Veterinary Services laboratories in Ames, Iowa, completed genome sequencing on the virus, and confirmed it to be Asian H3N2. All eight genome segments of the
virus match closely (99 percent identity) with viruses isolated from dogs and cats from South Korea. This suggests that the virus likely came from this region. It's the first reported incidence of H3N2 in North America.
In support of the veterinary community and accelerating the time to diagnosis, Merck Animal Health sponsored a diagnostic sampling program with Chicago area veterinary clinics. Nasal and pharyngeal swabs were taken from sick dogs to help identify the causative agent. Since testing began, more than 200 dogs (of those tested) have tested positive for Canine Influenza Virus using a broadly targeted Influenza-A matrix PCR test. CIV cases have been confirmed in Illinois, Wisconsin, Indiana, Michigan, Minnesota, California, New York, New Jersey, Ohio, Iowa, Georgia and Alabama. Thousands of cases have been reported and six dogs have died. None of the positive cases had been vaccinated prior for Canine Influenza.
"This is the first time this H3N2 strain of Canine Influenza Virus has been found in North America, so there's a lot we don't yet know about it," said Edward Dubovi, Ph.D., Professor of Virology and Director, Virology Laboratory, Animal Health Diagnostic Center, College of Veterinary Medicine, Cornell University. "Veterinary professionals are advised that diagnostic testing of samples from sick pets can be done using a broadly targeted Influenza A matrix reverse transcriptase-polymerase chain reaction assay (RT-PCR). Currently all matrix positive samples are being typed at Cornell to determine whether the virus is the N8 or N2 virus. The canine-specific Influenza A H3N8 RT-PCR in use in several laboratories will not detect this virus. We developed a H3N2-specific serologic assay and are continuing to work with Merck Animal Health to test serum samples from sick dogs which will provide us with valuable information about this emerging disease."
CIV H3N2 – The Signs
– Both Influenza strains can cause high fever, loss of appetite, coughing, nasal discharge and lethargy.
– Clinical signs may be more severe in cases caused by the H3N2 virus and this strain may be more virulent based on the widespread nature and short timeframe in which the virus spread.
– Some infected dogs may not exhibit any clinical signs at all, which means strong biosecurity measures are critical if you suspect H3N2 in any of your patients.