As a follow up to our last post titled, "Are your dogs afraid of thunderstorms?" I decided to do a little research into Thundershirts and ask our staff for information on the effectiveness of these shirts. If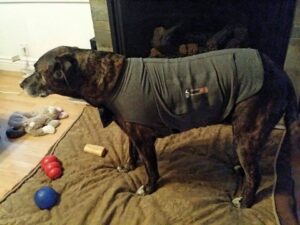 you're unfamiliar, a Thundershirt is a vest that wraps around an animal (cat or dog) applying a slight amount of pressure to the animal's chest. On the Thundershirt website they describe the shirt working "like a hug"; swaddling a pet in this manner can serve to calm them down if your pet experiences anxiety over loud noises such as thunderstorms or fireworks.
A Thundershirt can be a great alternative to medicinal intervention, which can lead to a drowsy, tired pet. The effectiveness of a Thundershirt is determined by a variety of factors; the individual pet and the circumstances surrounding their anxiety come into play. An LVT (Licensed Veterinary Technician) at our hospital commented, "Just like the pheromones or Composure treats, I think it can work for some pets, but for others it might have little to no effect."
If your pet suffers from anxiety and you would like to avoid medicinal intervention, a Thundershirt may be a good option. Even if the shirt doesn't work for your pet, at $40 it won't set you back a ton.
*This post is not meant to be an endorsement of the above product but to present it as an option.