Michigan Dog Training (MDT) is a dog training company located in Plymouth, Michigan, that aims to "provide behavior solutions so your dog can become a well mannered family member and so you can do more fun activities with your dog."
Michael Burkey, the owner of Michigan Dog Training, had a special relationship with dogs from a very young age. As a child, Michael suffered from environmental allergies which resulted in his ear canals being blocked, and consequently he missed the early cues in the development of language so he wouldn't try to talk to people. His parents, at the time unaware of the allergies, consulted a speech therapist, who recommended they get a dog for him to talk to. Princess, a beagle/rat terrier mix, soon joined the family, and would sit and listen to Michael for hours as he petted her while he learned to speak. This was an important development in his childhood and, Michael says, "I have enjoyed a special bond with dogs ever since."
Michael was in law enforcement for 22 years, and this special bond led him to become a K9 officer after he joined the police force, where he spent 10 years. It also spurred an interest in dog training and obedience. He volunteered at the Humane Society of Huron Valley as a dog behaviorist for many years.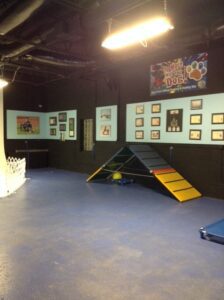 Michael is also a former social worker, and the experience he gained there helps him with his dog training. When working with a client's dog, by necessity he is also working with the client, and ultimately it is the client to whom their dog must look for direction. While he trains the dog to understand the person, the person must also be trained to understand the dog. When working with couples, Michael says that a third to half the time, the couple isn't working together as one to train, which can confuse the dog; Michael helps to get them on the same page.
Why do people bring their dogs to Michael and MDT? Fear and aggression is the primary reason, and the former is often the cause of the latter. As fear issues are dealt with, the dog's confidence is raised, which lowers the aggressive impulses and improves its obedience.
Michigan Dog Training offers a variety of approaches to training, from Dog Day School (~8 hours during the day for 2, 4 or 6 weeks) or Board and Train (around-the-clock programs lasting 2, 3, 4 or 6 weeks) at the MDT facility, to private training in the facility or in the client's home. Thursday nights are dedicated to touch-up group training, which is open to all current and former MDT clients.
Most of the dogs brought to MDT are adult dogs adopted from shelters, but the company offers puppy classes as well, with the start of training recommended one week after the first series of vaccinations (10-12 weeks old; 9 weeks usually too young).
To learn more about Michael and the staff, facilities and methods of MDT, take a look at the Michigan Dog Training website.
Check out the video below for a quick look at one of the scent training methods used by Michael to train detection dogs.