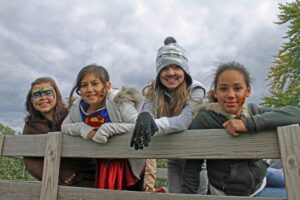 It's finally arrived– the 2015 Zombie Charity Event is this Sunday, September 20th, from noon to 4pm at Coleman's Corn Maze in Saline. We've been working long and hard to prepare for this and together with our partner charity, Stiggy's Dogs, we know we'll raise a lot of money for both Stiggy's and our Fixed Income Family Fund.
Activities include a dog obstacle course and dog park, best zombie costume contest (open to both people and pets), petting zoo, face painting, silent auction, 50/50 raffle, zombie-themed "head-in-the-hole" wall murals, pet pix with a professional photographer (people are welcome to be photographed, too) and of course, the corn maze! Hay rides and U-pick apples are available for an extra fee.
If you're hungry or thirsty, hot dogs, corndogs, chips, popcorn, bottled water and pop will be available for purchase from our food tent, and Coleman's will be selling cider and freshly-made doughnuts.
Take a look at the Event Page for videos, an aerial view of this year's custom maze, and a list of the generous companies that have made donations.
Coleman's corn maze is located at 12758 Jordan Road, Saline. We hope to see you there!
To donate or purchase tickets in advance, please use the PayPal link below. All payments will be handled through our Fixed Income Family Fund.
Tickets are $20 for individuals and $35 for families. Veterans receive $5 off the ticket price. Please indicate either tickets or donation in the memo area. Tickets purchased here will be at will-call at Coleman's Corn Maze the day of the event.