Note: This was originally posted last winter. Even though it's not yet Pet Travel Safety Day, we think this post is useful for people traveling before Christmas, so we're reposting it now. We hope you and your pet have safe holiday travels!

January 2nd is Pet Travel Safety Day. It can be great fun to travel with your pet, if the circumstances are right. Many dogs like to be a part of family gatherings. Some enjoy hiking, long walks, and exploring new surroundings. It is best to know what situations your pet is comfortable with normally when deciding whether or not to take your pet with you.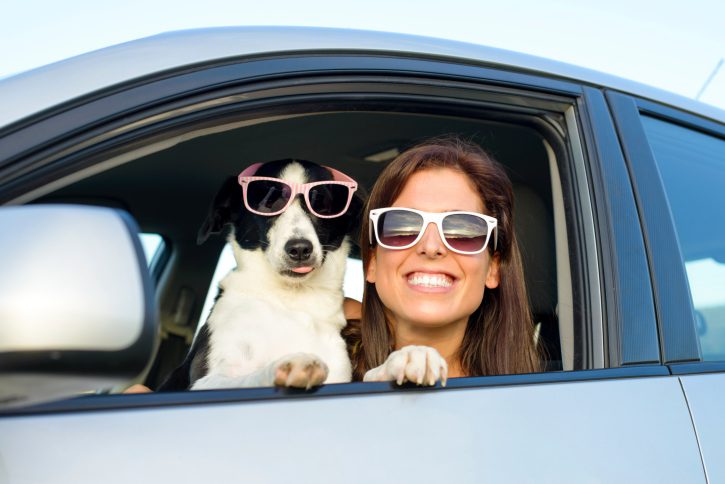 What are some concerns with traveling with my pet by car? If you are traveling with your pet by car, be sure to prepare ahead of time by taking short trips to get your pet acclimated to the motion. Confine in a crate or use a harness attached to the seat belt to keep you and your pet safe. Be sure to pack a copy of your pet's health records, rabies vaccination certificate, a recent photo and the microchip number (if chipped). Add an identification tag to your pet's collar with a phone number where you can be reached in the event your pet gets separated from you.
What about traveling with my pet by plane? If traveling by plane, check with your airline about requirements for health certificates. Small pets (usually under 15-20 pounds) may be carried onboard while larger animals will ride in the luggage area. Be sure you have an appropriate crate or carry-on bag. If you have any questions or concerns about exporting animals to another country, you should contact the Veterinary Services Area Office in the State from which your pet will be transported. Additional information is available at USDA Pet Travel.

Some other resources you may or may not be aware of include this great site Take Your Pet, which is loaded with useful information regarding traveling with animals including hotels that allow pets.
If you are concerned about your pet's anxiety during travel, ask us about medications which may help.