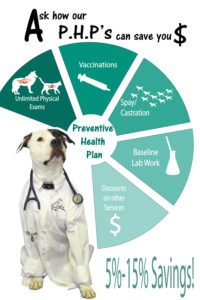 We launched our Preventive Health Plans back in March of 2014 because we wanted to provide our comprehensive, high quality veterinary care at a lower cost. Since then we've been listening to client feedback—what people liked, what they found value in and what they didn't—so we could make them better.
To that end, we made some changes to the PHPs back in November. We eliminated the Senior PHPs for both dogs and cats because our doctors didn't feel they offered a good enough value. Instead, we now recommend that senior pets be enrolled in a standard adult plan, and they will receive the plan's 5% Preferred Pet Discount for all of the requested services that the plan doesn't include.
We also revamped our puppy plans. New research is indicating that large and giant breed dogs should not be spayed or neutered until they are mature, but in the meantime they still need puppy vaccines, etc. So we added a Puppy Plan (no surgery) for large and giant breed puppies,
and once they are mature and the DVM and client agree, these dogs are now "fixed" after one year. To address this later sterilization date, we created the Canine Young Adult w Spay/Castration >75 lbs. and <75lbs. plan for those pets that already have puppy vaccines done.
Of course, all PHPs still include FREE, UNLIMITED EXAMINATIONS during daytime hours during the entire year the plan runs.
Please take a look at the Preventive Health Plan page to learn more about individual plans or how the plans work; call us at 734-662-4474 or stop in for more enrollment information.