The supplement business is big and booming. In the United States, 71% of adults take some sort of dietary supplement. They are most popular among adults 55 and older but they are becoming increasingly popular among the 18-35 demographic. Why do we take supplements? In the past it's been because we feel something is lacking in our diet and we need a little extra boost to maintain good health. However, with millennials, a desire for increased energy tops the list of motivations. But enough about what people are doing…
What about our pets?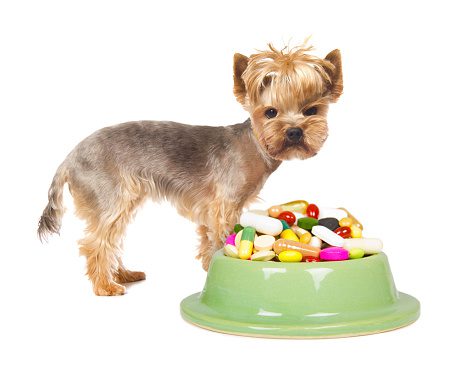 Do supplements give our pets more energy, pain relief, or make up for some lack of nutrients in their diet? Do they need supplements at all? Dr. Kerry McKinney, an ER DVM here at A2AH has this to say: "Most healthy animals fed a commercial, complete, balanced for life-stage food with an AAFCO (American Association of Feed Control Officials) statement do not need supplementation. On occasion, e.g. increased need associated with illness, healing or pregnancy, supplementing a particular nutrient, vitamin, or mineral may be indicated."
A high quality, balanced, and age appropriate food doesn't stop pet owners from spending money on supplements. The American Veterinary Medical Association quotes a study by Packaged Facts Reports that states:
The market for pet supplements reached $541.3 million in sales (in 2014). Joint health supplements remain the most commonly purchased condition-specific pet supplement according to Packaged Facts' January 2015 survey of pet owners, followed by those supporting heart health and skin and coat health, then digestive health/hairball prevention, and omega fatty acid supplements. Probiotics, senior formula supplements, and omega fatty acid supplements were more popular with cat owners, while more dog owners than cat owners give their pets joint health supplements.
We must keep in mind that supplements are not subject to the same controls and regulations that medications are and so their efficacy is often unknown. Dr. McKinney cautions us, "In most cases, there is little evidence-based support for oral supplements purporting to aid arthritis, aging, "inflammation", cognitive dysfunction, or temperament. While most supplements are benign, they can be expensive and in some cases harmful."
The take away?
The first thing to do is to make sure you are feeding your pet a high quality vet-approved pet food. If you are concerned about lack of nutrients or assisting your pet with a specific malady, talk to your vet about the supplement you are considering. Educate yourself and be realistic about the outcome of supplementation. We are always here to discuss your concerns—Always Here, Always Ready Always Caring!
If you would like further information on the pros and cons of pet supplementation, click these links to DVM360.com and AVMA.org.