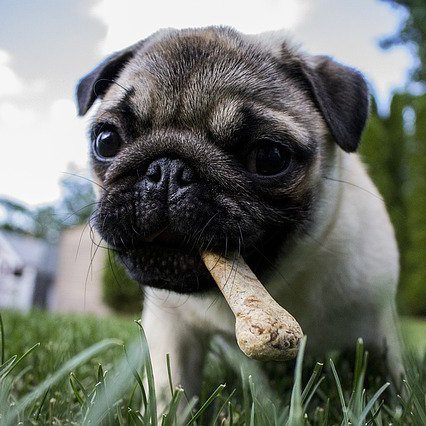 by Kerry McKinney, DVM
Recently, I was having (another) conversation about puppy ownership with my graduate-student daughter, Abigail. After living all of her childhood in the not-so-booming town of Rives Junction (with an assortment of cats and horses and the occasional foster-critter I brought home), she moved off to college in 2011.
Since then, I have helped relocate my eldest no fewer than 14 times, including an internship summer in D.C. and a year teaching on the opposite coast in San Diego. She's currently exploring PhD programs and puppy ownership; I'm currently exploring U-Haul franchise options and being the voice of, "Really? Are you really sure you really want a real puppy? How about something in a nice plush velour instead?"
Her friends have dogs and her housemate has a bundle of French Bulldog energy and baby teeth named Clementine. So Abigail really wants a puppy and she's researching breeds and the cost of ownership, which is how the recent conversation came about. As the daughter of a veterinarian, she had an idea what sort of medical care a puppy would need in its first year, but didn't really know the costs. If you're wondering too, this is what to expect when you bring a new pup home:
Cost of the Canine Starter Unit (aka the puppy itself)
This, theoretically, could be "free." Though actually, there's no such thing: "Free" is an optimistic synonym for something cute 'n' cuddly that will turn out to have, at the very least, worms, fleas, and imminent diarrhea and at the worst a combination of mange, a heart murmur, and behavioral incontinence which you will discover only after irrevocably bonding with the fluff ball.
The purchase price of a pup will vary from under $150 for a mixed-breed rescue to several thousand dollars for a mixed breed from a reputable breeder of Puggle Doodlepoos. The cost of some purebred puppies is also in the mid-four figures, which on a per-pound basis compares quite favorably to the current price of plutonium.
Nutrition
Budget $15-20/month, per 20 pounds of dog, for a good quality puppy food and the occasional special treat. Home-delivered gourmet meals or other specialty or prescription foods for your furry friend can increase costs considerably.
Veterinary Care
There's no such thing as an 8-week-old puppy who's had "all his shots." Puppies need multiple vaccines, the last given at 16 weeks of age or later, to fully prepare their immune systems to fight off common and deadly canine diseases.
Proper wellness care includes exams for appropriate development and growth; immunization; parasite testing, treatment, and prevention; and discussion of nutrition and behavior.
Four wellness visits, scheduled immunizations, and treatment including year-round heartworm, flea and tick control could cost $700-900. Routine bloodwork and neutering can range from $300-500. Our Preventive Health Plans include recommended wellness care and unlimited office visits at a fixed cost, which can help a lot if you're a new puppy parent.
Pet Insurance is also available, though coverage options and cost vary considerably and careful study is warranted. This optional expense can be a life-saver if your pup experiences a serious illness or injury.
Training, Containing & Grooming
A six-week training class that includes socializing, basic obedience, and offers some tips on managing new puppy behaviors will entail a well-spent $250-300. Your local library and selective YouTube videos may also be excellent resources.
Add in an appropriate leash and collar, crate, bedding, doggie gate, flotation device, holiday wear, squeaky toy and chewy yum-yum and the price goes up a bit; another $200-250 should cover the essentials, unless the chewy yum-yum is your favorite sofa. Day care, dog walkers, dog sitters, and kenneling are additional expenses to consider if your pup will be alone while you work or travel.
For grooming, plan on a base price of $60 for a medium-sized, medium-coated dog to have a bath, trim, and brush every 6 to 8 weeks. Very short-coated dogs won't require much more grooming than a home bath. However, Michigan weather means your Whippet will want an extra sweater, or maybe another pup for snuggling…