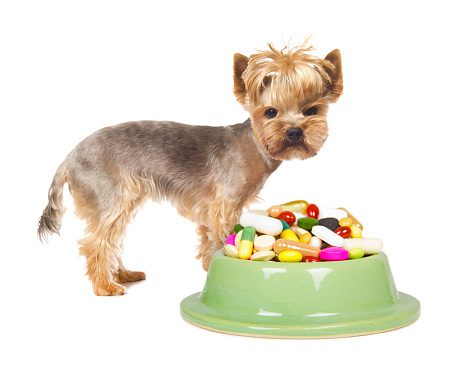 The Ann Arbor Animal Hospital and Ann Arbor Animal Hospital Emergency Service are staffed and ready to handle a variety of pet medical health issues, 24 hours a day. Most of the treatment plans created by our veterinarians include some form of medication, from parasite products designed to protect your pet from fleas, ticks, and worms, to maintenance drugs designed to treat thyroid or diabetes, to pain medications scripted to clients as a post-op pain management regimen.
At times, we have medications that expire or have clients asking the hospital if they can return medications that their pet can no longer tolerate or no longer needs. In these cases, just like human pharmacies regarding medications scripted by human doctors, the hospital cannot return these medications to stock or dispose of them.
Why is this important?
As you might have read or heard about over the last few years, medications have been detected in streams, rivers, waterways, and even groundwater. One reason for this is that people have flushed their unwanted medications down the toilet. Unfortunately, municipal water waste treatment facilities aren't prepared to filter out these medications. As a result, traces of these medications are being detected in our drinking water.
Another huge concern is the rise of cases of children being accidentally poisoned by medications they find in their homes. Moreover, as addiction to pharmaceutical drugs has hit all time highs (no pun intended), many of those who are newly-addicted to prescription drugs, especially teenagers, got started by taking them from their own medicine cabinets at home or receiving them from friends who stole them from other family members.
What is being done
To help combat the above issues, Washtenaw County created the Pharmacy Take-Back Program. From their site:
The Pharmacy Take-Back Program allows Washtenaw County residents to take back their old, unwanted medications to a pharmacy to be properly disposed – for free! In compliance with the Controlled Substance Act (CSA), enforced by the Drug Enforcement Administration, this program does not accept any controlled/scheduled drugs.
For controlled substances, this is where Take-Back locations and events come in. The University of Michigan, for example, has instituted a Safe Medication Disposal program. Also, there is a second option for opioid take-back events sponsored by OPEN (Opioid Prescribing Engagement Network).
There are locations around the state where unwanted medications can be left, as well as special events twice each year, in April and October, in partnership with the DEA.
The next prescription drug take-back day is April 27th, from 10am-2pm.
Check out the OPEN site for locations, or click the banner below.