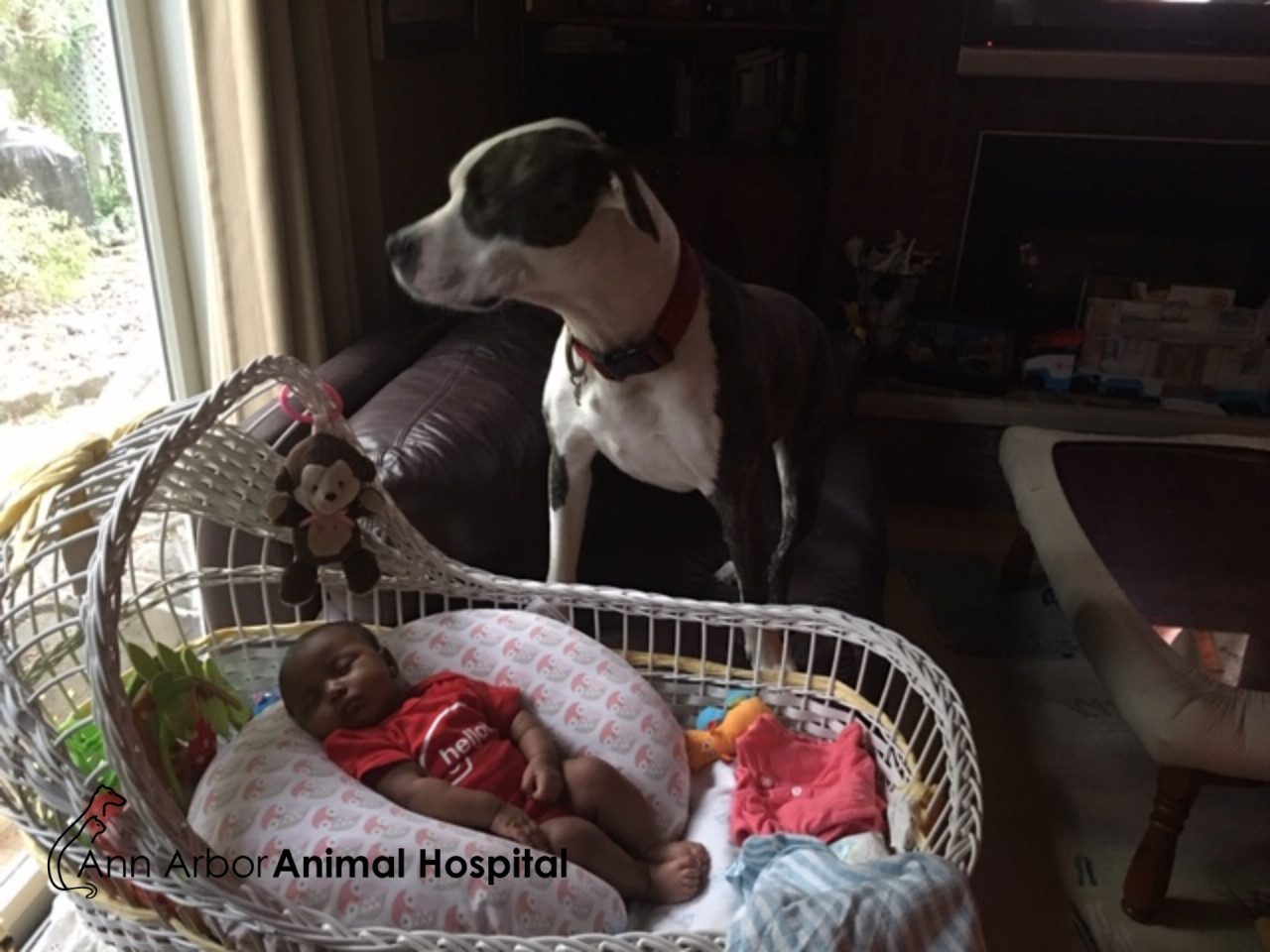 by David Caddell
As the Hospital Director of the Ann Arbor Animal Hospital & Ann Arbor Animal Hospital Emergency Service, as well as a father, a grandfather, and a person who's grown up with pets, I consider myself experienced as it relates to the benefits of having a pet at home. The pets I've enjoyed throughout my life have brought me great joy.
Child's Best Friend
Today, April 26th, we celebrate National Kids and Pets Day. Instead of "Man's Best Friend", we could actually modify the phrase to "Child's Best Friend". Regardless of the pet you own, pets bring boundless joy to our children. However, there's so much more pets do in terms of adding psychological and behavioral benefits to children.
At the Caddell house, our adopted dog, Mordecai, has added immense "get-up-and-go" to my daughter's and grandchildren's lives. He has been a great friend and companion to my children, my grandchildren, even the neighborhood kids. They all love him and it's obvious he loves them, too.
The idea behind National Kids and Pets Day is to revel in the richness, love, and bonds we share with our pets, whether they have scales, fur, feathers, can change colors, purr, bark, squawk, or are silent (we've owned veiled chameleons and they were amazing and fascinating pets; how many people have sat in front of a fish tank staring and marveling at what their eyes see?). Another emphasis of this day is to teach our kids how to behave around pets, so both pets and kids are safe.
Health benefits
As has been widely reported for many years, the involvement of pets in the lives of children has many, many benefits. I think about the nurturing skills our kids have learned when we've brought a puppy home. The patience and consistency needed as each of my daughters served as handlers for two different dogs we adopted as puppies.
While parenting my kids, I've at times used lessons they learned while serving as the handler and lead trainer for our dogs to bridge their understanding of what "dad" was trying to teach them. They've also learned responsibility by being on point for daily feedings, changing out water bowels, grooming, cleaning up dog poop, brushing the dog's teeth (yes, and the toothpaste was meat flavored), and teaching them basic obedience. They've even learned about death when it was time to say "goodbye" to a beloved 4-legged family member.
We also think it's important to use this special day to remind children that pets aren't people and, therefore, kids need to take certain precautions when learning boundaries while interacting with pets. For example, younger children should never be left alone with certain types of pets, so a big brother or sister can be invaluable to safeguard their younger sibling.
Helping kids grow up
There are lessons to be learned regarding how to greet, relate to, and act appropriately around pets, especially those not in your own household. Kids need to be supervised to prevent them–or a pet–being potentially injured.
Psychologists have long maintained that pets provide a benefit to our physical and emotional health. They can teach kids about empathy, being responsible, and learning how to love. Other noted benefits of pets has been helping kids conquering shyness, cultivating their social skills and growing trust. Pets have also proven to help build social skills.
So take a moment today, next week, or even for an entire month, to celebrate the joy and benefits of owning and caring for a pet!