There are abbreviations and acronyms everywhere, with more all the time. If you don't know what they mean, it can feel like people are speaking a different language. Similarly, too much medical jargon can have you wishing for the OED (Oxford English Dictionary) while seeking some TLC (Tender Loving Care) for your GSD (German Shepherd Dog).
If you've visited Ann Arbor Animal Hospital (AAAH) any time in the last year, you may have noticed the ever-so-gradual remodeling of our new Intensive Care Unit (ICU). When the project started, we were also nearing another review (which we've since passed) by the American Animal Hospital Association (AAHA).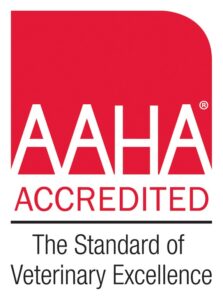 AAHA is a non-profit organization and the only accrediting body for small animal veterinary hospitals in the U.S. and Canada. AAHA establishes benchmarks of excellence in:
Patient care, including diagnostics, pain management, safety, surgery, anesthesia, dentistry, and emergency/urgent care.
Continuing education, patient care and management protocols, and leadership.
Client service, including communication, client education, confidentiality and medical record sharing.
Facility standards, including contagious disease management, exam facilities, equipment sterilization and maintenance.
Accreditation involves a rigorous several-day evaluation process and comprehensive on-site evaluations. This is repeated every three years to ensure hospitals are compliant with standards.
In my time at AAAH, I'm happy to report we've twice passed with ever-higher marks and maintain membership in the top 12-15% of small animal hospitals in the U.S. and Canada.
As part of our ICU expansion and preparing for our accreditation evaluation, we also reviewed and updated AAAH and AAAHER (Ann Arbor Animal Hospital Emergency Room, naturally) protocols. One area especially important to me is client education, and in particular informed consent.
Veterinary Critical Care
Many of the pets I see are severely injured or very ill with complicated disease processes. They frequently require hospitalization for supportive care, diagnostic lab work and imaging pending definitive surgical or medical care. Our hospitalized pets are closely monitored by Licensed Veterinary Technicians (LVTs) and often receive intravenous (IV) fluids and medications, oxygen therapy, and electrocardiogram (ECG) evaluation. And they always receive proactive management of nausea, anxiety, and pain.
An important part of my job as an emergency Doctor of Veterinary Medicine (DVM) is explaining my concerns to clients following an exam of their pet. We discuss the expected benefits and risks of a diagnostic test or treatment, anticipated costs, and decide on a plan. It's the explanation and understanding of those plans that make informed consent possible. Therefore, when we review lab work and x-rays and provide written information, please feel free to take the time to read through the pages and ask any questions you may have regarding your pet's proposed care.
One theme of this blog post has been a few of the many abbreviations we use in conversation; these are easier, shorter ways of saying or writing a longer word or name. When it comes to your pet's health, though, we don't want to take shortcuts. We don't want anyone to be confused by medical abbreviations or language or anything else. We want you to see the whole picture and remember that we're in this together.
And with any luck, we'll be moved in to the new ICU ASAP!