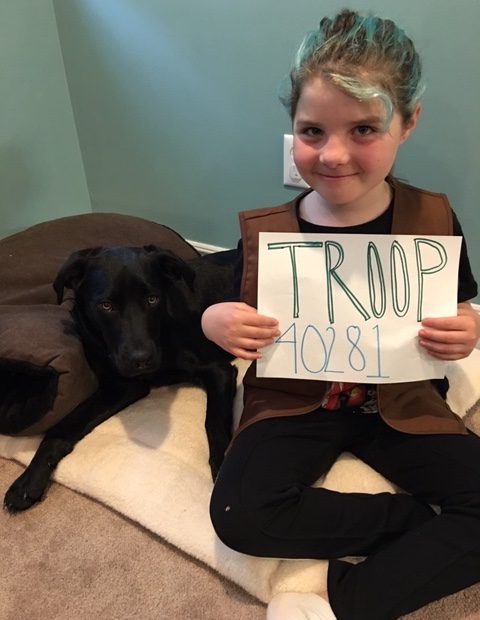 "Girl Scouts Visit ER!" That sounds like a tragedy, but in this case, it was just a field trip.
The Ann Arbor Animal Hospital Emergency Service was pleased to host a group of Girl Scouts from Troop 40281 for an educational experience to learn about veterinary medicine. Their visit included an informational learning session and a tour of the hospital, including our Critical Care and ER treatment areas.
David Caddell, the Hospital Director, began the afternoon with a Q&A in our conference room. We encouraged questions from both the kids and the parents in attendance. As it turned out, the moms and dads with the group were just as interested as their children! This educational session focused on dog and cat life cycles and what role the veterinarian plays from a health perspective.
Life Cycle of Dogs and Cats
Beginning with puppies and kittens, we taught the girls about the life cycles of pets. For young animals, we stressed the importance of training, nutrition, preventive medicine, vaccinations, parasite protection, neutering and spaying. For the next animal life stage, young adults, our talk focused on preventing emergencies by providing a safe home environment. We reinforced the need for annual preventive health visits to ensure a pet's optimal weight, nutritional needs, and training. Additionally, we discussed diagnostic tests which ensure good pet health, like fecal and heartworm testing, and being current with vaccinations. For the final life cycle, geriatric pets, we covered what veterinarians do differently from a preventive health perspective and the unique challenges when treating older cats and dogs.
That last topic discussed during the conversation was how to keep children safe when meeting a strange pet. We provided educational handouts about reading a pet's body language, how to greet a pet, pet training, etc.
The Fun Stuff
A favorite part of the girls' visit was viewing x-rays of pets that had ingested unusual objects. The highlights: kids' toys and a steak knife. Additionally, the girls saw some parasites which we'd removed from pets. This provoked much conversation as our inquisitive visitors enjoyed the sight with occasional gasps of "gross!"
Moving downstairs, we began the second part of the field trip. Our emergency doctors and staff were happy to see the Girl Scouts arrive for the touring portion of their visit. To avoid causing too much congestion in any area, we decided to split the girls into two groups. The first group headed to the lobby, where they saw how we process patients at check-in before they go into an exam room. Meanwhile, the second group went to the treatment area where they saw the treatment tables, surgery suites, our in-house laboratory, ultrasound machines, x-ray room and Intensive Care Unit (ICU). Then the groups switched so each got the full tour.
We loved the opportunity to provide these well-behaved young ladies with a chance to see what we do here. They got to see some unusual things and ask questions about their own pets. Plus, they were able to see how veterinarians and support staff see animals in a real work environment. As part of the veterinary health care system here in Ann Arbor, it was an honor to have the Girl Scouts visit and to show them what Ann Arbor Animal Hospital ER provides to the pet owning community.