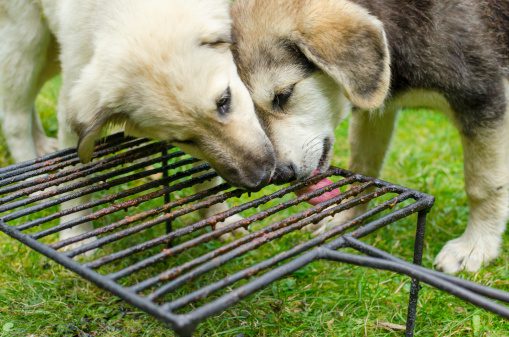 As we gather together with friends and family in the coming days and weeks of summer, let's remember a few things to keep our pets safe.
I come from a huge Italian family where food is love and love is food. Often times we want to share this love with our furry family as well. Just please take precautions to help avoid a trip to the ER or the OR!
Corn Cobs
We may love corn on the cob, but corn cobs can be very dangerous for dogs. Someone may have given one as a treat or your sneaky dog may have gotten into the trash after a cookout; either way, alert your veterinarian immediately if you know that your dog has consumed a corn cob. This is a foreign object that will likely not be digested and will create an obstruction. When this occurs we have to take your dog to the operating room to remove the corn cob which can be costly and a painful problem for your dog.
Bones
Bones of any kind, but especially cooked bones, can cause several health problems. These too can cause an obstruction along with vomiting, diarrhea, and sometimes a painful condition called pancreatitis. Offer up some dog-friendly chews or treats to keep them busy.
Scraps
Scraps from plates left on the ground or garbage that is accessible to your furry friend can also be dangerous. Items that can pose a hazard would include popsicle sticks, kabob sticks, rocks that grease dripped onto, and foil or wrappers with food remnants—just to name a few. Toxic items to think of that you may have at your picnic or gathering include grapes, chocolate, onions, along with many others.
If you want to share with your dog, think about offering up a crunchy carrot or two. A Kong filled with canned dog food and then frozen can work as well. We want everyone to have a safe and enjoyable holiday and to have your pets safe at home and not in the ER.