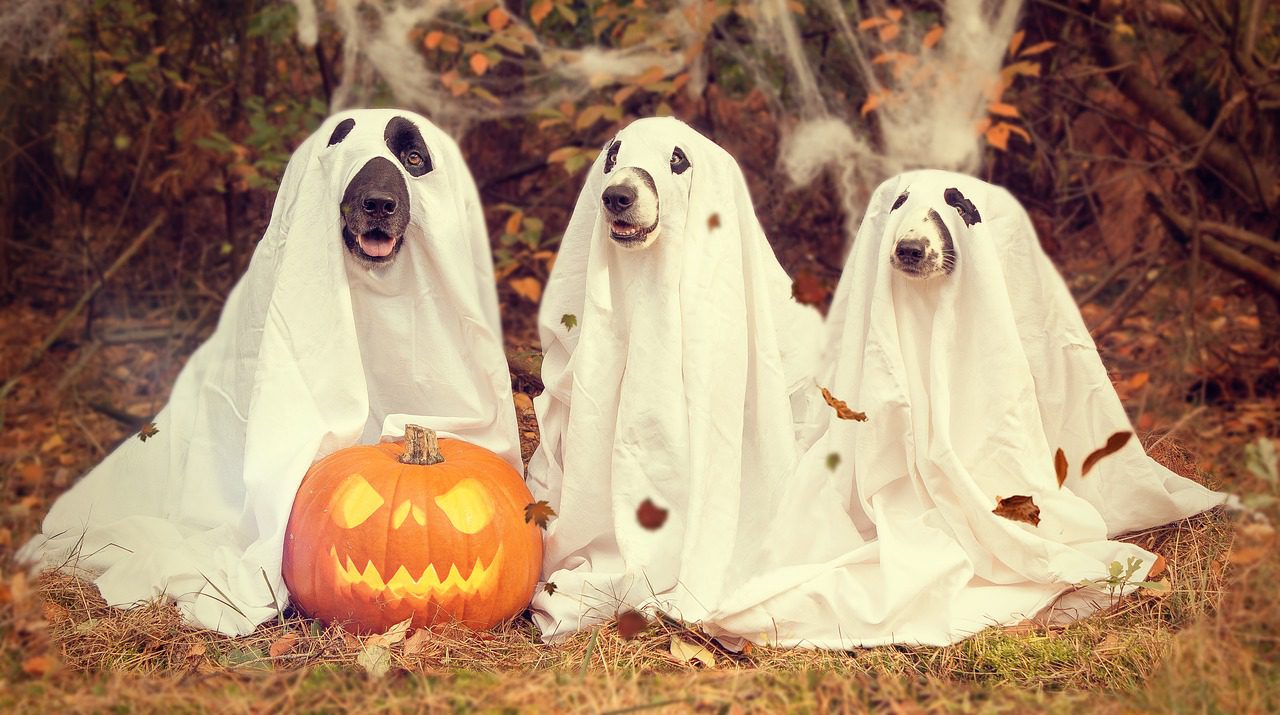 Halloween's tradition of candy, costumes and trick-or-treating can be a threatening and potentially dangerous time for pets. What is fun for children can be a very stressful time for the family pet. It's natural for families, especially children, to try to include their furry family members in all the fun, but this is one holiday the pet should probably forgo. Practicing good Halloween pet safety will make for a much happier holiday for your furry loved ones.
There are a number of hazards that pet owners should consider during Halloween.
Halloween Pet Safety Hazards
Loud and excessive noise created by trick-or-treaters, not to mention the costumes, can frighten your pet. Pets, especially dogs that are easily excitable or threatened by strangers, should be kept away from the front door to keep them from biting strangers or running into the street.
Make sure your pet has some sort of identification in the event they do escape or run away. A collar with an ID tag (with current information) is a great start, and for more peace of mind, get your pet microchipped if they're not already.
Pets are better off left at home during trick-or-treat excursions. However, if they are taken along, it is best to keep them on a very short leash to keep them from fighting with other animals, biting strangers they encounter, or running away due to fear.
Candy, especially chocolate (see here and here), is toxic for animals and can cause vomiting, restlessness, heart disturbances, and even death.

If you have dogs in your home, be particularly aware of products containing xylitol, a natural sweetener and sugar substitute found in assorted sugar-free gums and candies, which is deadly to canines.

Candy should be kept out of reach of pets; instruct young children to not share their Halloween "bounty" with their pet.
We love carving pumpkins and displaying our jack-o-lanterns, but any lit candles should be where pets cannot reach them so they can't accidentally burn themselves or start a fire.
Halloween costumes for pets can be cute, and it's become a fun practice to share pictures of dressed up dogs and cats. However, owners should be wary of costumes that utilize rubber bands to keep them in place on the animal. If rubber bands are mistakenly left on the pet after the costume comes off, they can quickly burrow into the animal's skin.
Veterinarians across the country see many pet injuries during this time of the year that could easily have been avoided. Pet owners should keep in mind that pets are creatures of habit and can become very stressed when their environments suddenly change. They are much better off if they are protected from all the traditions of Halloween.
We at Ann Arbor Animal Hospital want you to have a safe and healthy holiday. If you suspect that your pet has eaten chocolate (or in the case of dogs, xylitol) or other treats that cause discomfort, consult your veterinarian immediately.
Happy Halloween!