Ahhhh, summertime barbecues. Hotdogs, hamburgers, pasta salad, baked beans, barbecued chicken & ribs, chips, ice cream…  so many delicious choices.
Often times we bring our pets to these cook outs and we'd like to give you a friendly reminder about what your pet can and can't eat at a barbecue.
It's tempting to toss your pooch something off the grill or to allow them to meander their way through the party eating food scraps and licking plates left in the grass by busy children.
Cooked plain meats are generally okay, although hotdogs and sausages are high in sodium and can lead to dehydration. Avoid the "garlic spinach beer bratwurst" or any other crazy meat/spice combination that may give your pet tummy trouble.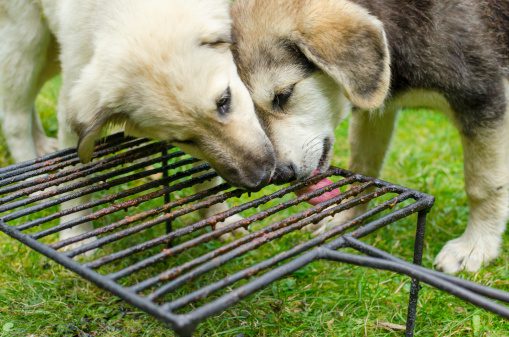 Other BBQ food items like ketchup & mustard, chips, bread, ice cream, cheese, etc. won't kill your pet but aren't good for them either. These items contain sugar, saturated fats, preservatives and more. Best to avoid or only allow in small amounts.
Cooked bones are not okay. These are tough on your pet's GI tract and can get stuck in teeth and cause serious damage.
Onions can be toxic to dogs and should be avoided.
Xylitol is a common sweetener that is used as a sugar substitute in many foods and is toxic to dogs.
And of course, chocolate is a toxic food and should be avoided in any form.
Is there fruit salad available at the party? Keep your pets away from grapes! Grapes and raisins are toxic to dogs.
Foods your pet can eat? Melon, mushrooms (not the wild kind), lettuce, strawberries, prawns.
Keep the bad foods away from your pets and end your BBQ relaxing with a beer at the bonfire, not cleaning up vomit from a sick pooch!