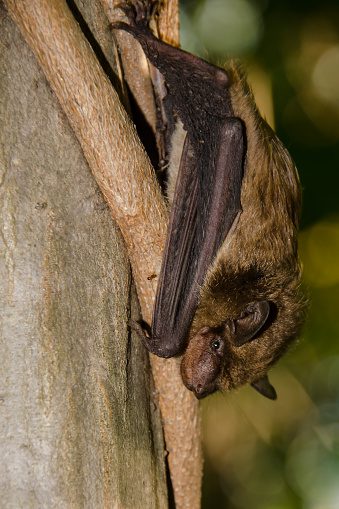 Note: This blog was originally published in 2018. However, in July 2023, a stray kitten tested positive for rabies in Oakland County, reported in Click On Detroit. Rabies is always out there, and it underscores the importance of getting your cat(s) vaccinated. Dr. Sara Barnhart adds, "Not nearly enough cats are receiving their Rabies vaccine and it is so important." Even if your cat never goes outside, rabies-carrying animals like bats can still come in. As of September 25, 2023, there were 44 positive cases of rabies in Michigan, primarily bats and skunks.
In 2018, there were 117 animals tested for rabies in Washtenaw County; 95 of those animals were bats. There were 6 animals that tested positive for rabies, all of them bats.
Rabies in Washtenaw County: keep rabies vaccinations current
By Michigan law, dogs and ferrets must be kept up-to-date with rabies vaccinations. Ann Arbor city ordinance states that cats 6+ months old must be vaccinated against rabies. We recommend that all cats, both those who go outside as well as cats that are indoor-only, be given the rabies vaccine. This is because bats can make their way into your house and come in contact with any cats living there.
The Michigan Department of Health and Human Services (MDHHS) recommends that if a dog or cat has possibly been exposed to rabies, even if the dog or cat has received the rabies vaccine, that the pet get revaccinated immediately and have the owner observe it for 45 days. Rabies in animals vaccinated against the virus is rare, though vaccinated animals can still develop rabies.
Bats are the most common source of rabies in Michigan. If the biting animal (e.g. bat) is available for testing, submission for rabies testing is highly recommended. If you find a bat in your house, please don't let it go without talking to a professional.
Capturing a bat in your home
It is not uncommon for bats to find their way into the interior of a house, especially older homes. They may also be found in schools, churches and other buildings.
The first recommendation is to leave the bat alone and contact a local animal control or public health agency for assistance. If they are unavailable, call the Michigan Department of Agriculture and Rural Development (MDARD) at 1-800-292-3939 or the MDHHS at 517-335-8063 during business hours or 517-335-9030 after business hours for consultation.
If professional help is not available, use precautions to capture a live bat safely. (If you don't know where to start, check the Health Department of Washtenaw County page for some instruction.) If the bat is dead, put it in a Ziploc bag and put it in the refrigerator until it can be sent in for testing. Contact the Washtenaw County Health Department at 734-544-6700 for advice regarding sending the bat for testing. Ann Arbor Animal Hospital can also coordinate rabies testing of animals for your convenience.
The following list of mammals are rarely infected and will not be tested at MDHHS: chipmunk, gerbil, gopher, guinea pig, hamster, mole, mouse, muskrat, prairie dog, rabbit, rat, shrew, squirrel or vole.
All animal bites and exposures to bats should be reported to Washtenaw County Health Department at 734-544-6700.
We have had a number of unvaccinated cats come to our practice that have been potentially exposed to rabies when a bat enters the home. There is consistent documentation of rabies in Washtenaw County. Ann Arbor Animal Hospital recommends that all dogs and cats (indoor or outdoor) get vaccinated for rabies. Cats need an annual rabies vaccine to stay current and dogs get annual to triennial vaccines depending on age and previous vaccine history.
If any of your pets get bitten by a wild animal, see your veterinarian immediately.