Ann Arbor Animal Hospital's mission is to provide compassionate, comprehensive, high quality veterinary care with an emphasis on exceptional client service and patient care in a warm, friendly environment. We are conveniently located near I-94 and US-23, just a mile west of downtown Ann Arbor. Our 29,000 square foot, state-of-the-art facility (see a Virtual Tour here) has a strict cleanliness protocol for which we get very high ratings from our clients! Amenities include ample parking, a drive-thru pharmacy and on-site grooming at Groom n Go.
Our Laboratory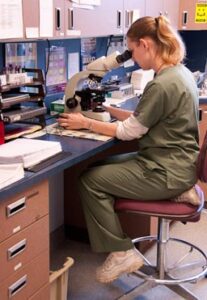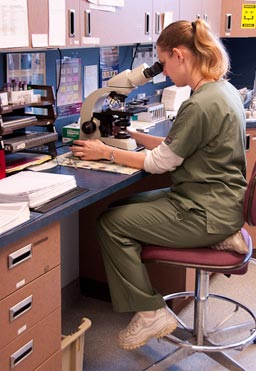 We practice preventive medicine as well as diagnosing emergent internal health issues which require the ability to perform a wide range of laboratory tests on blood, urine, feces and biopsied tissue. Timely access to precise laboratory test results from blood, biopsies, cultures and microscopic examinations of various samples allows us to make an accurate diagnosis and assessment of your pet's health.
Our complete in-house laboratory, sophisticated instruments and diagnostic capabilities allow us to receive most results the same day. We have the ability to conduct the following tests and disease screens:
Canine Heartworm
Blood Chemistry Profile (organ function)
Canine Cortisol (for Addison's or Cushing's disease)
Canine Pancreatic Lipase (for Pancreatitis)
Centrifugal Fecal Flotation (for intestinal parasites)
Coagulation Profile (for bleeding disorders)
Complete Blood Count with Differential Electrolytes
Feline Heartworm, FIV & Leukemia
Fungal Culture
Cytology
Giardia Antigen
Thyroid Function
Urinalysis
Our Pharmacy
Many Health conditions require medication to cure or alleviate symptoms. We believe timely access to medication is an important component of caring for your pet. For this reason, we maintain a comprehensive pharmacy with the added conveniences of a drive-thru window, the ability to order prescriptions for home delivery online, and a dedicated prescription refill phone number.
For a refill request on a medication prescribed by an AAAH doctor, please leave a voicemail message at 734-887-7900.
Each medication prescribed is part of your pet's medical record (which you may access via the Pet Portal link under the Resources tab). This enhances accuracy and our ability to monitor medication use and results.
Our 24-Hour Emergency & Critical Care Service
Doctors and staff on-site 24 hours a day in our ICU
Digital radiography provides improved detail when compared to traditional x-ray
Ultrasound allows rapid, non-invasive assessment of chest and abdomen
Rapid assessment and monitoring via ECG, pulse oximetry and blood pressure measurement
Isolation suites to safely and comfortably accommodate infections patients
Two surgical suites equipped with state-of-the-art monitoring equipment, ventilator and warming blankets
Our Intensive Care Unit (ICU)
1100+ square foot, dedicated area for treatment plus continuous observation and monitoring
24-hour doctor supervision and Licensed Veterinary Technicians for hospitalized patient care
Individual cages with oxygen availability
Cages with supplemental heat and individual thermostats
Large runs to accommodate large dogs
In-house laboratory
IV fluid support
Snyder Intensive Care unit
Our Reception Area
We strive to process patient visits in a timely manner. However, the convenience of in-hospital diagnostic and therapeutic procedures makes some waiting inevitable. Please enjoy our comfortable and clean reception area with complimentary wireless internet access, water and refreshments.