Our Dental Suite
Dental care is one of the most basic medical needs that should be attended to by the conscientious pet owner. Dental health affects not only the brilliance of our animal's smiles and the freshness of their breath but, if not addressed, can lead to pain and tooth loss and can even affect organ function and longevity.
An estimated 85% of adult pets have periodontal disease—the most common disease in dogs and cats. Fortunately, it's simple and easy to treat.
We built a dedicated space in our practice for performing dental cleanings. Our space includes:
Wet table and lighting
Drop down oxygen/scavenger system
Dental radiology unit
Ventilation and sound control
Lots of storage
Convenient access to records and supplies
Plenty of space for technician, anesthetist and veterinarian
A lovely window with a view of West Liberty
If you need to schedule a dental cleaning, please give us a call at 734-662-4474.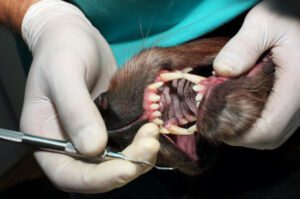 Not all veterinary dental protocols are created equal
Here at the Ann Arbor Animal Hospital each pet dental procedure includes:
• Pre-anesthetic bloodwork
• Pre-anesthetic sedative
• Inhalent anethesia that allows rapid adjustments in anesthetic depth as needed
• Intravenous catheter and fluids throughout the dental procedure
• Monitoring of heart rate, oxygen saturation and blood pressure
• Ultrasonic scaling and polishing of teeth
• Chlorhexidine (antibiotic) rinse
• Dental radiographs and extractions if needed
• Recovery in a warmed kennel
• Free dental kit to take home.
The Ann Arbor Animal Hospital carries Virbac Animal Health Home Dental Care products (flavored toothpastes and premium chews with Chlorhexidine) for dogs, toothbrushes for dogs and cats, as well as special Hill's Prescription Diet for Canine Dental Health.
Here's a great video from our friends at Virbac that demonstrates how to brush your pet's teeth:
Post Dental Home Care
During the procedure, your dog had general anethesia. This enabled us to remove calculus and tartar, evaluate the health of individual teeth and remove any teeth as necessary, clean & polish your pet's teeth and apply fluoride treatment.
If your pet only received gas anesthesia, he/she should act quite normal. If your dog received any pre-medication injectable agents or pain medication, he/she may still be kind of wobbly or tired. Ask what was used for your pet so you will know how your dog should act at home.
Some Do's and Don'ts on the day of a dental procedure
• Keep your pet quiet and safe overnight
• If your dog isn't acting absolutely normal by tomorrow morning, call us!
• Make sure you understand how to do "home care" and use the kit provided
• Make sure you dog does NOT "tank up" on water tonight or tomorrow*
• Ask if Hill's Prescription t/d Diet is appropriate for your dog
• Normal activity and feeding should be fine by tomorrow
* Do not give any water for the first hour after your pet arrives home. After that, put out either small ice chips or 1/2 cup of water. Wait 30 minutes before offering more ice chips or water, in small amounts. If your pet vomits the water, do not give any more until morning. If your pet refuses to drink, don't worry—many pets feel a bit sick to their stomachs after anesthesia and are following good instincts to not drink. You may notice a small amount of blood in the saliva, or in the water after your pet drinks. This should go away in a day or two.