Celebrate & Remember
Do you have a story to share in memory of your pet? Please submit to a2animals@gmail.com
Bert (1994–2011)
My Gentle Old Lion
(by Bill Pelletier)
The thing about Bert was, it was impossible not to love him. He was originally a barn cat, born on Webster Church Road, in Dexter, Michigan. He was immense, a red cat with big topaz eyes and a massive leonine head. I first met him when I was house sitting in 1996. He was two years old, and recuperating from the traumatic amputation of his left back leg after being hit by a car. In the beginning, he hid under the bed, and when he finally emerged, it was six months before he dared leave the bedroom. During the night I often held him in my arms, as he seemed to be having nightmares. He did, however, recover, and live an enjoyable outdoor life. Once I saw him running at top speed, a raccoon at his heels. He was a cat with nine lives. There was the time he rolled off the second floor porch. Not only did he survive threats to his health in later life, but he was rescued by me more than once. The first time he was missing in the woods, and once I found him whimpering and shivering, trapped at the bottom of an unused basement stairwell in the late autumn after being missing for thirty six hours.
Bert inspired devotion in all those around him, including little children. He became best buddies with my tiger cat Snapper. Bert's two brothers used to come in the second floor window and all three red cats would lie in bed with me together. His brothers would also bring him the mice which his handicap prevented him from catching on his own.
Everyone loved him, not just because he was brave about being three legged, but because he was mellow, handsome and noble and had a great sense of humor. Whenever I ate dry cereal he would look right at me and smack his lips. He never did it for oatmeal or anything else, just dry cereal. He would joke, occasionally, pretending to bite my hand, or tug at my pant leg with his paw. He used a skylight dome on the house, covered with snow, as a slide, and had fun playing on it. He was a kind cat; he would let the others eat first, and he never touched little black Soffie when she would bat him in the face. He would merely give her a look of  disapprobation reminiscent of our family lawyer. He loved being brushed and enjoyed chewing on the brush handle. Often he would sleep on his back, his stomach exposed and his single back leg sticking up in the air. Bert suffered from  nasal congestion his whole life, and he would wake me in the night, snoring in tandem with my wife, and just as loud!
He was a smart cat and understood English. When I picked him up to carry him around, as he became less mobile with age, he would arch his back at my request, "Make a handle, Bert!" At night, in his more advanced years, in Ann Arbor, he would pause on the ottoman before launching himself onto our bed, waiting for my wife to chirp, "You can do it, Bert, you can do it, Bertie!" My wife adored him; she used to  recline in the nude with her arms around his big furry body. Once when I was away on business, she found him waiting for her in bed with his head on my pillow on my side. After that she called him Bertie Boyfriend Cat.
Bert's old age brought him many challenges, but he lived to be seventeen. He was resilient and stoic, a cat beloved of the Ann Arbor Animal Hospital staff and Dr. Jess Franklin, who shepherded him and us through all his trials right to the end. He survived two years of diabetes, with me giving him insulin shots twice a day, not to mention the extraction of most of his teeth and the removal of a tumor on his tail. It was not until the last three weeks of his life that his systems failed him, following a painful infection, the result of an outdoor adventure.. Before he was put to sleep I sat up with him all night, offering him comfort and vainly endeavoring to tempt him to eat. Finally he would not even drink. He had difficulty breathing and I could hardly accept it that his time had come. He had a high fever and a mass in his stomach. My wife had to make the decision and sign the papers. I scratched his beautiful huge head between his ears and whispered goodbye to my old golden lion and he was put to sleep at 10:10 on Wednesday morning August10th, surrounded by flowers as he loved their fragrance.  He loved music too; he had his own small stereo, and I used to play Brian Eno for him.
In the days following his passing, I missed tending to his needs. The house felt empty. Isidonto, Snapper's successor, was lonely without him. Caring for Bert had been a labor of love. As an older, heavier cat, he had been unable to manage the stairs and the litter, so I used towels on top of plastic bags. He always tried very hard to pee in the middle of the towels and would howl in the middle of the night to let me know he needed a fresh towel, or was hungry, or wanted to come upstairs, etc. I felt privileged to care for him.
The day he died, the beautiful skunk who had been his pal in the courtyard, sitting beside him on the pavement at night magically appeared at noon, no doubt in search of him. All nature appeared to be conscious of his passing. He had been in the habit of lying beside a voluminous daisy bush on the lawn, and once had slipped his arm around a single daisy. The day he died, when all the blooms had been gone from the bush for two weeks, a single new daisy appeared in the very same spot as the original daisy he had embraced. I plucked it and put in water in the house. A few days later, a second single daisy bloomed on the bush, in the identical place. I hardly think this was coincidence.
Preparing Bert for cremation, I wrapped him in my old trench coat which I had used for his buddy Snapper. I had wrapped Snapper in it as well, after discovering him motionless in Bert's arms on Halloween night of 2004. I will never wear that coat again. I have saved it as it has remnants of both cats fur on its lining. I wrapped Bert up in his bed with delphinium, dried flowers from his white daisy plant, a snapshot of Snapper, and one of himself holding a flower, and sprinkled him with incense from the Liberal Catholic Church.
At home we have a table, or altar, devoted to the memory of our six original cats, all of whom have passed away over the last ten years. We have their ashes, vials of fur and whiskers, and photographs. Bert's red brush, complete with tooth marks on the handle with fur in the brush, is placed beside his picture.
After two weeks of tears, I am hoping to establish a fund to benefit other cats in Bert's name as he was a loving force. I have pictures of Bert I made late last fall of him meditating in the golden sunlight of a late autumn afternoon that I refer to as, "Bert's golden lotus pictures". I would joyfully trade a few months of my own life so that Bert might have lived to enjoy one more golden autumn.
CJ, 2/21/06 – 8/15/17
CJ is a Rottweiler who came into my home as a rescue in 2009. From the start, he was a one-in-a-million dog. He overcame heartworm disease from the shelter not long after coming home. He was an absolute joy to train and work with, and was my teammate throughout his life. He earned dozens of championship titles in agility and rally obedience. He was a canine good citizen and a registered therapy dog who excelled at working with children because of his gentle, calm nature. He enjoyed nothing more than making people smile and laugh.
About a week before I lost him, I had noticed he was seeming to be a little stiff/painful in his hind end. Sitting or squatting both seemed to be a little difficult. He'd been a performance dog (agility) his whole life with me and at his age, occasional stiffness or muscle soreness was not out of the ordinary. I gave him a low dose of anti-inflammatories for a couple days to see if that would help him out, which usually takes care of it. I had been out of town for the weekend judging an agility trial. When I came back home late Sunday night, he still seemed like he was sluggish, stiff. These symptoms were very mild… I would have given him a score of about 90% of normal so I still was not worried. Monday morning I decided, still thinking that we were dealing with a joint or soft tissue injury, that we would call our rehab vet, Dr. Mary Cardeccia at the Animal Rehabilitation Facility, Dexter. We were fortunate enough to squeeze into a last minute cancellation time slot later in the afternoon. In the meantime, I took C.J. and his sister out for a late morning walk. I intentionally kept it very short – only about a half mile, a fraction of our usual distance. By the end of the walk, C.J. was trailing behind us. This was completely unusual. Even at his age, he was always leader of the pack, no matter how far we walked.
When we got to ARF to see Dr. Cardeccia, she began examining him, looking for the sore spots along his back, his joints, etc. She said she wasn't finding much physical going on, a few maladjustments on his spine which she corrected, but nothing that would account for his recent behavior. She did notice, however, that his abdomen seemed a little distended and that his mouth seemed pale. She was hoping that she was being totally paranoid, but she suggested we come in to A2AH to get some x-rays just to be safe.
Dr. Franklin was out that day, but we were happy that Dr. Figarra (who we like to see as she's another agility competitor) was available. They took him back for x-rays and that's when the dominoes really started to fall. Clear on the film were pockets of fluid in his chest, some obstructing his lungs. While there was no way to tell from an x-ray what the fluid was, Dr. Figarra feared it was blood. A chest tap relieved the pressure and confirmed the presence of large amounts of blood in his chest. After the chest tap, C.J. was never the same again. He became extremely weak, barely able to stand or walk on his own. Hours before, he walked in on his own, jumped in and out of the car on his own. No more. Dr. Figarra suspected that it could be a tumor, but that something was clearly bleeding within his chest. She recommended we come in the next day for a cardiac ultrasound with Veterinary Cardiology Consultants.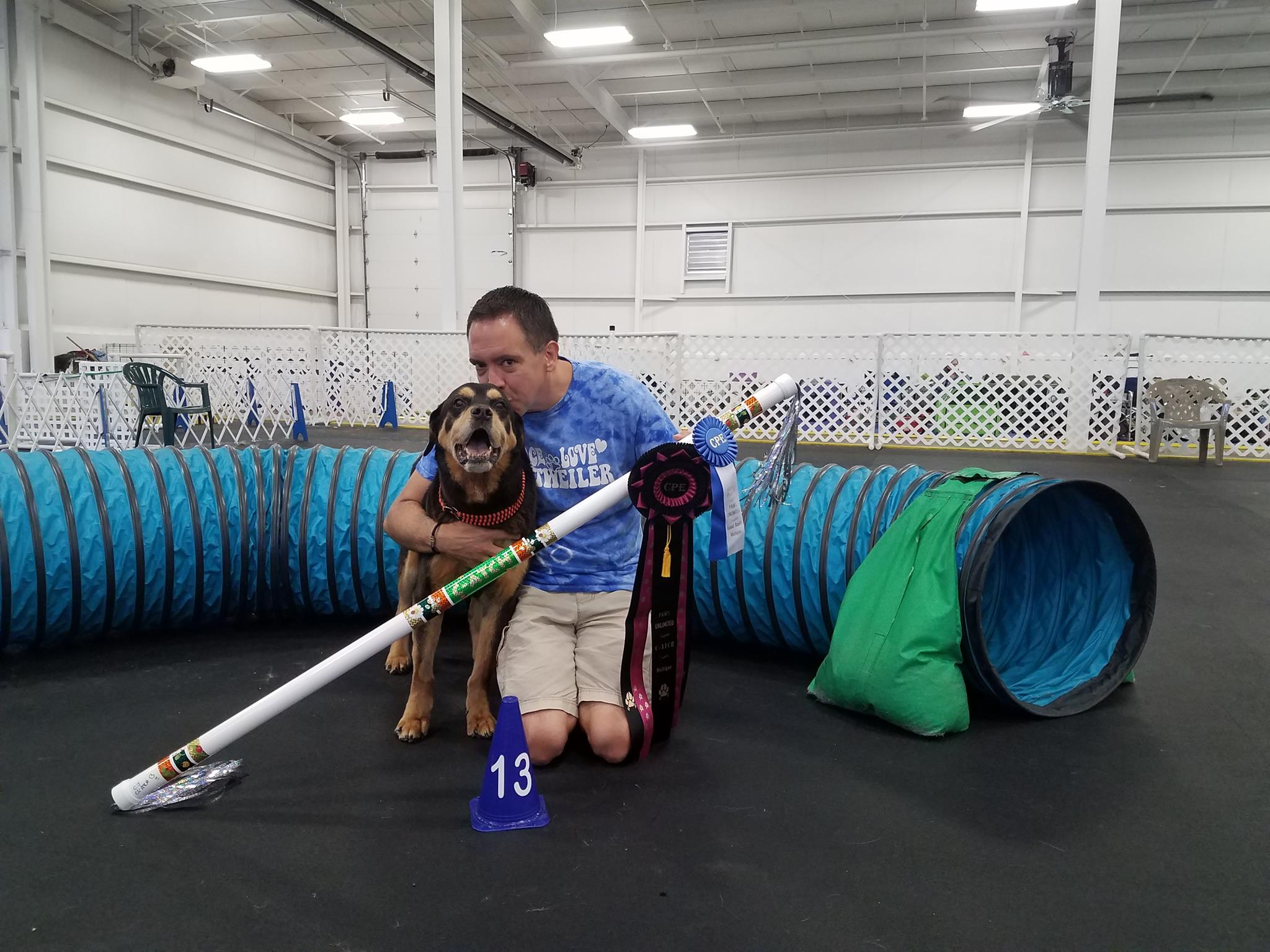 I advocated hard to let C.J. come home with me that Monday night. It was heartbreaking, but a decision I will never regret. I had to carry him (at more than 80 pounds) in and out of the car. I lay him down on the tile entryway – his favorite place because it was nice and cool.  For the rest of the night, he was largely motionless. Every now and then, he would try to sit up, but as soon as he did you could almost see his blood pressure drop and he just slid back down onto the floor.  I spent the entire night curled up beside him. He would not eat (and C.J. LIVED for food), and I gave him water through a syringe.
Early Tuesday morning, he awoke and decided he needed to go outside. To my amazement, he stood and stumbled almost as if he were intoxicated to the back door, went out to relieve himself, but had to be carried back inside. He finally did drink water on his own if I brought it to him, and after searching for anything that would entice his appetite, he finally consented to eating a meal of raw fish if I hand fed him every morsel. My brother came over early in the afternoon to help me transport him. We made a brief stop on the way back to A2AH at a Wendy's and got C.J. a small vanilla Frosty, one of his all-time favorite treats. He was interested, took several licks, but certainly did not devour it like he might normally.
When we got to A2AH, he was brought inside on a stretcher. Dr. Christian Weder from Veterinary Cardiology Consultants examined him, performed the ultrasound, and delivered the terrible diagnosis that I knew, deep down, was coming. It was indeed a tumor, and it was indeed bleeding. The fluid that had been drained from his chest was already back. Without a biopsy, it's impossible to know for sure if it was hemangiosarcoma, but given its behavior that seemed the likely culprit. Going up to MSU for surgery and going after the tumor aggressively was an option, but given his extremely weakened state, his age, the riskiness of any surgical intervention, and the likelihood that even if the surgery were successful, only a limited amount of time would be gained. I could not put him through that. He had given me his whole life. And I could not put him through all of that just because I needed him here.
Dr. Weder and his amazing technician helped load C.J. back into my car. We went to Lillie Park, C.J.'s favorite place on the planet. I carried him into the park, and lay him with him on the grass for about an hour, just letting him enjoy the fresh air and sunshine. We loaded him back into the car one last time, and drove home. I spent a few hours just talking to him, showing him pictures, telling him stories about all the adventures we had together. I finally found a treat that he was interested in eating, and I let him eat as much as he wanted. A couple of friends came over, people C.J. knew and loved. And then at about 7:30pm, Dr. Cardeccia came and put him to sleep as I held him. It was the single hardest thing I have ever had to do.
So in all, he went from being about 90% of his usual, silly, energetic, hungry, smiling self to being gone in just about 30 hours. This was both a nightmare and a blessing. His suffering was brief, and he got to live his life full of joy and excitement.
One week later to the day, another agility friend's dog was diagnosed with hemangio as well. He passed yesterday, two days after diagnosis. It was then that I decided to make something meaningful out of C.J.'s death and started fundraising. As of right now, his memory has brought in $4,800 toward canine cancer research.